hi! X3 i uploaded the videos and rips of yesterday's shounen club.
Theme: Seishun [Youth] / Graduation Episode
this is really a must-watch and i will be providing some reasons why. X3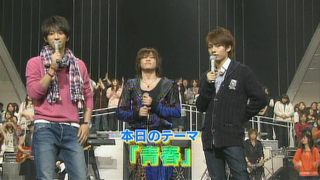 [sorry, the pics don't open on paint and my photoshop is still unreplaced...
not that it matters anyway since i suck at that
]
edited:
this is why you are seeing this again in your friends page so please don't brick me
added the jr. game X3
by popular demand
if you want to just download and are looking for the links, they are always at the bottom of each title because...
★Ao ni Jidai
Vid
Rip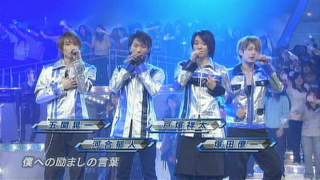 ★This is one of the gayest ways to start the show...
and i love it! <333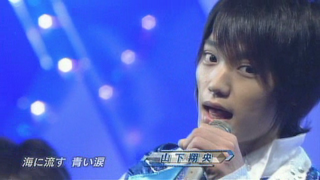 ★honestly, if i ever see shoon sing again, i will spazz until the neighbors knock on my doors...
notice how i said neighbors and not family members!?
but seeing them with hasshi makes me cry. x_x although i have to admit that i love them together, i am wondering how shoon feels and how he is
stuck between either hasshi's group or ABC!? X_X
Gasp! even maru and koyama sing in this one! X3
not that their singing is impressive but the fact that they are
do i even make sense?!
Seishun Medley
Vid
Rip
For the people who don't know who sang each song in the medley, here goes...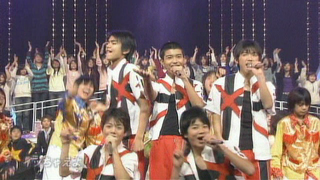 ★Fever to Future - Ookawa Keigo, Nakada Hiroki, Masuda Ryo, Takada Sho, Takahata Misaki
★Garasu no Shounen - Nakayama Yuuma, Uekusa Yuta, Camu Cade
[seriously, i don't get why nakayama-kun is so popular these days... x_x]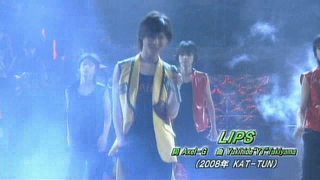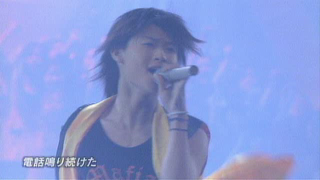 ★LIPS - Hashimoto Ryosuke, Nozawa Yuuki, Itou Ryuudou, Kishi Takayoshi
★honestly. hasshi. i am not supposed to like you. you remind me so much of hayato. or you're like a little jin. and why did you get famous now given the fact that you weren't chosen to be in hsj?!
and why are you freaking singing LIPS!?
someone pull him me away from me him!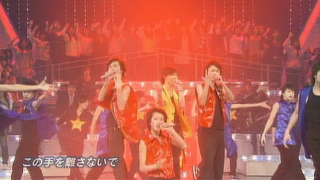 ★Seishun Amigo - Kamei Taku, Sanada Yuuma, Fukushi Nobuki, Kosaka Masato
Nothing much to say here really. except i love sanada as well now! X3
It ends with all of them singing Sakura Sake... Honestly, this is one of my favorite Arashi Songs, i have no idea why, but the song is superb and the PV is also to die for! X3
talk
i just wanted to include these pics: this is Kousaka btw! X3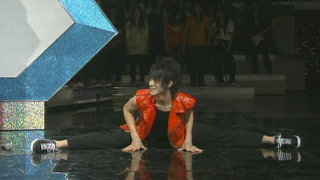 Jrs: we want to see you do it, koyama.
Koyama: this is my limit. How about you maru?
Maru: definitely can't!
Koyama: you can't!?
Maru: it's impossible!
Maru, you are so generic yet cute. X3
Kyomoto, Morimoto, Anderson - A Ha Ha
Vid
Rip
YABAI DESU
★Shiri, you are NOT SUPPOSED to be
fangirling over kids less than 12 years of age
i have a feeling i will get arrested for kidnapping them and raising them up as my little brothers x_x
BUT SERIOUSLY THIS IS A NICE SONG!!!!
HSJ - Special Medley
Vid
Rip
Hey!Say! JUMP Special Medley
Hey!Say! JUMP - Ultra Music Power
Hey!Say! JUMP - Shin・Gi・Tai
Hey!Say! BEST - su・ri・ru
Hey!Say!7 - Wonderland Train
Hey!Say! JUMP - Hey!Say!
Hey!Say! JUMP - Ultara Music Power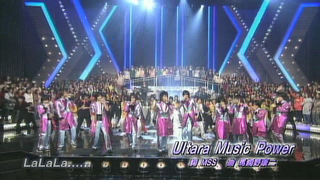 see the spelling? not my doing okay!?
mirai_kazuko
this is for you sweety. [Kaze no hire] *hugs*
Junior League Game
[sorry no links, if you want it, please do tell me, but it would be a split file since it is kind of big]
LINKS NOW UP! credits to
hotakky
001
002
sorry. didn't have much time to rename it so i just uploaded it as it was uploaded by hotakky. just please rename the file ne? thanks! X3
to pass the time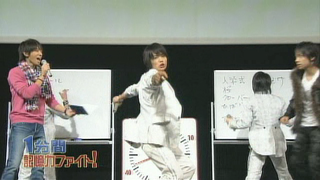 ★Shoon does not agree with how the draw is going to be decided [janken]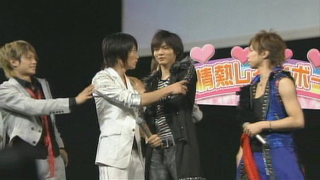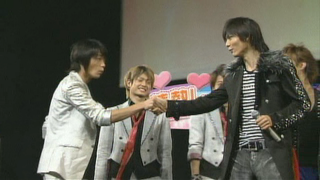 ★Shoon: "Go get them, Yabu-kun!"
Dreambombers - Wana
Vid
Rip
★And the result?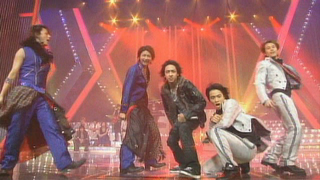 Jounetsu Rainbow gets to sit in a corner and watch them...
NEWS - Utsukushii sugite beautiful eyes
Vid
Rip
[screen caps to come]
★i always say to myself that something is wrong when NEWS sings live and when you heard them on their singles and stuff. Having not heard and possess the taiyou no namida single [i know. *gets bricked*] i think they did a good job here. X3 although again, i think that i had a bit of yamapi singing, don't you think? Xp
★Tego was cute here though and koyashige... X3
Kis-My-Ft2 - Brand New Season
Vid
Rip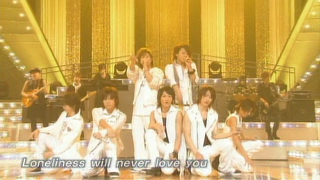 ★Despite the costumes, they still remind me so much of KT. *cries*
★Why johnny!? don't you make enough to give them proper costumes!?
STILL! i LOVE THIS SONG
scratch every scrap file you have in your hard drive and get this thing RIGHT NOW!
Burn it up!
Vid
Rip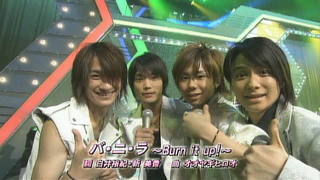 ★ISN'T THIS PICTURE THE CUTEST!?
NIKAIDO!!! WHY?!?! TOTTSU OF ALL PEOPLE!!!
credits to
mousapelli
for the screencaps [yes, you can see how lazy i sometimes am]
hotakky
as always for providing download links [coz i hate torrents xp]
again, please do not hotlink my files. you can just point them here
if any of the links don't work, please inform me. thank you!
please feel free to friend this journal as well. X3 i love making new friends! X3
comments are <333 and as early as now, i want to thank everyone who comments! X3
DTS:
satisfied
Yorokobi no Uta: KMF2 - Brand New Season